December 21, 2022
New Online Registration Available
Click Here to Register for the 2023 Targa Newfoundland
September 29, 2022
Helping the Fiona Disaster Relief Fund
As most of the public is aware, the folks of the South West Coast of Newfoundland did not fare well from Hurricane Fiona. According to the initial damage assessments and counts there are over 100 homes either destroyed or no longer fit for occupancy. In addition, some additional 150 families in the area have lost personal belongings and/or sustained considerable damage to their properties businesses, and fishing gear.
From the initial reports the insurance companies (where applicable) will only handle claims on an individual application basis. In the meantime these people need our help. Most of the affected people are retired and live on limited pensions so any form of serious recovery will be a challenge.
All of you who have competed in Targa Newfoundland have either entered or exited Newfoundland through the Marine Atlantic ferry system which has as its major terminal Port aux Basque. So you will know the area. These people need our help and they need it quickly. Whatever help you can give would be appreciated. Most of all, these people will need financial assistance. Please consider donating generously.
Donations may be sent to:
Salvation Army Fiona Relief Fund
Attn: David Harvey
P.O. Box 620
Port aux Basques, NL
A0M 1C0
E-Transfers may be sent to:
Or contact Mr. Harvey at
(709) 987-9725
Competitors or crews from Newfoundland can donate personal items such as clothing and bedding to…
Royal Canadian Legion Br 11
Read Street
Port aux Basque
A0M 1C0
Thanks for your generosity
Robert Giannou
Chairman
May 16, 2022
Targa Postponed Until September 14 to 21, 2023
From Robert Giannou:
The after-effects of COVID have dampened potential sign-ups for Targa Newfoundland 2022. Travel, whether cross-country or cross-border, is still an issue for many people. Due to insufficient entries to date and a slowdown in inquiries, we have reluctantly decided to postpone this year's Targa Newfoundland event until September 14 to 21, 2023.
I personally want to thank all Staff and Volunteers for having had faith in the event, working so hard to set the course, plan the meals,hospitality and entertainment for our guest competitors, service crews and media. We have a wonderful team here and will hold that group together as wemove into next year's event planning. Your efforts have not be in vain: We have the course ready and virtually complete, the schedule set and the communities on board. And while there will inevitably be some adjustments necessary, we are already giant steps ahead in creating a successful 2023.
We will keep everyone in touch with our progress and look forward to seeing our many Targa friends in2023.
Thank you,
Robert Giannou
Chairman
April 28, 2022
Targa Announces New 2022 Course Adjustments
Set out below is the current day by day Concept Plan for the event, including the Course Familiarization Program. As announced previously, the Course Familiarization Program has been changed and now only requires those new to the event to attend the first day although those who were here before are welcome just let us know you are attending. However, the second day is mandatory to all entrants no matter what class or division that they are planning to enter.
The first three Legs are complete at this point after we replaced the Ferndale Stage in Leg 2 with the one called Argentia at the old US Navel Base site. The current plan is we will do two laps of this stage which should be a lot of fun as it is set out more as a traditional road course as opposed to a stage.
During our visits we have continued to work with all of the communities involved in this year's event to ensure that there is a very clear understanding of the schedules and what is expected from each community. We have also started to fill the community positions of Stage Safety Coordinator for each of the stages. These positions are filled by someone from the community who will do the set-up and coordination of their particular stage and have it ready at the appointed time and staffed with volunteers for when the event arrives.
We have been on the road for most of April and are now just back from our most recent visits to the stages on the Eastport Peninsula and Random Island (Legs 4 and 5). After meeting with the communities, we decided to make to make these days more compact and allow more time in the communities for meet and greets wit our hosts. I think (hope) I can safely say that these two Legs of the course are now done and dusted, although there may be some variations in timing to allow for school bus schedules and community functions. I have set out the current schedule below for each of the areas. The revised schedules are set out below.
Now that spring seems to be slowly happening (it always is slow in Newfoundland which is why we have such great autumns). We will be setting up meetings with the various government departments and officials that work behind the event to ensure that all is in order. Don't forget that this year is badged as Come Home Year by the Province and as well we share that same wish. It is also Come Home (Back) Year for Targa Newfoundland and is in fact the 20th anniversary of the event. See you here.
Talk soon
Robert Giannou
March 14, 2022
Targa modifies course familiarization program
We have decided to adjust the format of our Targa Competition School. Over the past years it has proven its worth to both us and our competitors and it has been instrumental in helping entrants adjust to the course and event. When we created the program, we recognized that there are two necessary components. First, explaining and preparing competitors for the driving / navigating challenge they will face and second, familiarizing them with the stages they would experience. The program is all about Instruction and information.
Part One: Instruction Day. The morning session will be dedicated to instruction and information while the afternoon will be composed of road practice sessions. This day will be MANDATORY for all NEW Targa entrants. That said, we do encourage former entrants to sit in as a refresher.
Part Two: Information Day. MANDATORY for ALL. The morning session will provide details on all stages in the event on a stage-by-stage basis. The afternoon session will set out the procedures for first Intervention in the event of an incident (we will no longer require first aid certification but encourage it) and end with the Traditional Drivers Meeting. Roll call will be done at each session.
Vehicle Technical Inspection will be open and available during the Course Familiarization Program. There will be more details on times and locations later.
Talk soon
Robert Giannou
March 4, 2022
Targa is getting ready!
ON THE ROAD AGAIN
Greetings once again from what could almost be the northernmost Caribbean Island or should I say that last week we thought it was. Not only was there no snow, the days were warm and the nights were pleasantly cool, making it perfect for us who were out on the road meeting with communities and putting in place all of the details necessary to make this such a terrific event.
Our Travels
Took us through the St. Mary's, Placentia, Trinity and Bonavista Bay stages. I must say we had a great time, met a lot of wonderful people and started setting up the local organizations. On the weekend, when we got back to St. John's, the weather went winter again but we still we do not have much snow nor do we currently have too much wind, which seems to have been the common denominator for this winter. Oh well, its Newfoundland and we are in the middle of the North Atlantic. The big benefit is that if we don't like the weather at any given time we just have to wait for a bit and it will change.
I was Right!
The weather has changed and we are back into the snow/cold belt again. I am here doing the March newsletter which is certainly much better than current affairs…. I will avoid international affairs as I am sure we have all had more than enough of that. Suffice to say, these last weeks have introduced us all into an entirely new concept of honour and bravery, far beyond anything most of us have ever dreamed or read about. That of course has been matched by new heights of moronic, selfish idiocy. Enough!!!
Speaking of Travel and Sightseeing,
Please check out the new links on our site which will bring you to the Provincial Department of Tourism's wonderful video material. That material will set the stage for your visit to Targa Newfoundland 2022. These videos will, when you get here, become real as this is the Newfoundland that Targa travels through and these are the communities that we support and who support us. The videos show the absolute best of our Island and the people in it that make it special.
Event Management
We are now creating our management structure. Joe Dowden took over as President just before COVID (two years ago) which put us on hold. Now he is very busy placing the management and training organization teams that will be running the 2022 event. His group is well experienced and all looking forward to the event, meeting old friends, revisiting former stages, routes and communities. We have even removed our Challenger course car "Blue" from her two years of storage and refreshing her for the coming event. New electronic equipment, safety gear and a distinctive paint scheme will be part of the refreshing process.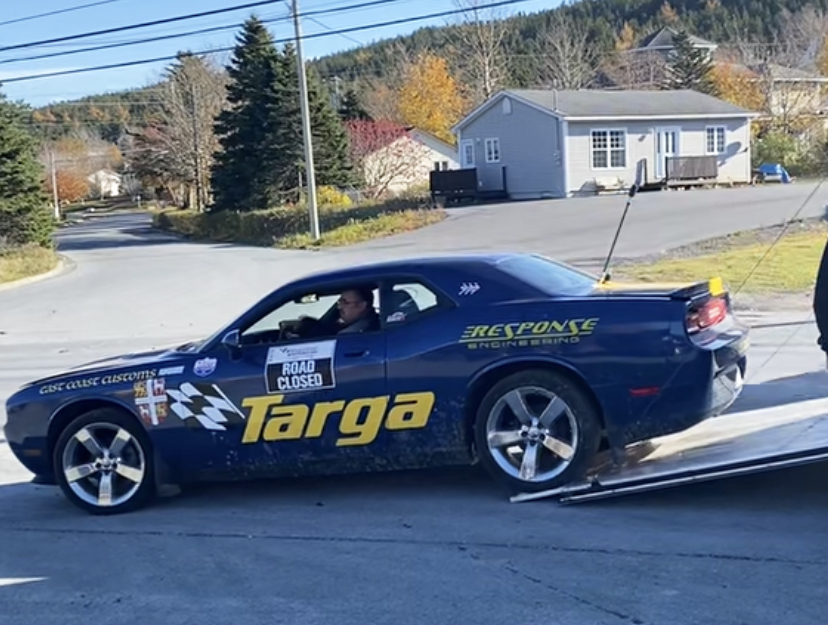 The Course is now structured, the communities are getting ready, all we need now are the competitors to fill out our roster. As we are only going to register 50 vehicles this year (including alternates), make sure you reserve your position early. We have devised an entry fee system specifically to give you total fiscal protection just in case COVID ambushes us again…
Please register now. If you have any questions, please do not hesitate to call me. Entry forms are on our website, but if you require more information, please call 1-877-332-2413, or my personal cell 1-709-7900, or write to me at Robert.Giannou@gmail.com
Talk soon
Robert Giannou
February 17, 2022
Our course map is now ready!
This will help those of you who are not quite familiar with our Island. For ease of location, the schedule is also set out. We will notify of any adjustments. Targa Bambina, Rotoura and Duemila:
Sept 8th & 9th Course Familiarization Program; St. John's
Sept 10th Prologue & Leg One Stages; St. Mary's Bay, South-Central Avalon Peninsula. Overnight St. John's.
Sept 11th Leg Two Stages; Placentia Bay, Southwest Avalon Peninsula area. Overnight Gander.
Sept 12th Leg Three Stages; Dame Bay, Leading Tickles area. Overnight Gander.
Sept 13th Leg Four Stages; Bonavista Bay, Eastport Peninsula area. Overnight Clarenville.
Sept 14th Leg Five Stages; Trinity Bay, Random Island area. Overnight Clarenville.
Sept 15th Leg Six Stages; Trinity and Conception Bays, South West Arm and Brigus. Overnight St. John's.
Sept 16th Packing up, touring and awards dinner day. Scheduled so competitors can be back by Monday.
Entry forms are on our website, but if you require more information, please call 1-877-332-2413, or my personal cell 1-709-7900, or write to me at Robert.Giannou@gmail.com
Talk soon
Robert Giannou
February 15, 2022
Welcome to February 2022!
We are on our way; attending community meetings and finalizing the course. Entries are coming in. Targa Newfoundland 2022 is offering something for everyone, so take a moment to read below. We have made the 2022 event three events in one, with the broadest range of entry offerings we have ever attempted. Pick one! Come and join us!
Three Events in One… Your choice!
We have decided to combine three events into one. Yes, this year's event entrants will be able to choose from: The Targa Bambina – a four-day adventure, the Targa Rotoura – a six-day adventure and the Targa Duemila – an eight-day adventure.
Four Divisions per Event… Again, Your Choice!
Each event will have Four Divisions for competitors to chose from:
Fast Tour; a fast, exhilarating, non competitive run through the course for 2,4, or 6 days.
Grand Touring; a high-speed, very competitive distance time and speed event for 2, 4, or 6 days.
Targa 1; a competitive high-speed event with challenging target times.
Targa 2; a very high-speed competition for race prepared vehicles with very challenging times.
Vehicles in FT, GT, and Targa 1 do not require cages, although a rollover bar is recommended. Full cages are required in Targa 2.
Events… Still Your Choice!
Thursday and Friday September 8th and 9th will be the Course Familiarization Program which is composed of a morning classroom session and an afternoon practice session on the road.
The following days are for the competition.
Bambina – Prologue, Saturday, September 10th to Leg 2, Sunday the 11th,
Rotoura – Prologue, Saturday, September 10th to Leg 4, Tuesday the 13th
Duemila – Prologue, Saturday, September 10th to Leg 6, Thursday the 15th
Friday is a packing up / touring day with the awards dinner being held in St. John's on Friday Evening so competitors will be able to travel on the weekend and be back to a normal life on the following Monday.
Route Areas and Overnights:
The schedule is locked but the stages may be subject to adjustment in the coming months.
Prologue and Leg One Stages; located in the St. Mary's Bay area, South-Central Avalon Peninsula. Overnight St. John's.
Leg Two Stages; located in the Placentia Bay area, Southwest Avalon Peninsula. Overnight Gander.
Leg Three Stages; located in the Leading Tickles area of Notre Dame Bay. Overnight Gander.
Leg Four Stages; located in the Bonavista Bay area of Eastport Peninsula. Overnight Clarenville.
Leg Five Stages; the penultimate day of the event, Random Island, Trinity Bay. Overnight Clarenville.
Leg Six Stages; the last day, South West Arm area of Trinity Bay and central area of Conception Bay. Overnight St. John's.
Entry forms are on our website, but if you require more information, please call 1-877-332-2413, or my personal cell 1-709-7900, or write to me at Robert.Giannou@gmail.com
Talk soon
Robert Giannou